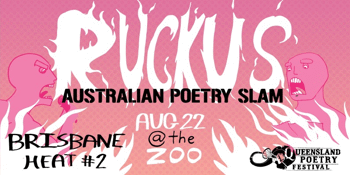 Ruckus Slam and Queensland Poetry Festival present
Australia Poetry Slam - Brisbane Heat #2
with special guests Joelle Taylor and Hollie McNish
The Zoo (Fortitude Valley, QLD)
Wednesday, 22 August 2018 7:00 PM
The Nationals are here again and Ruckus have teamed up with Queensland Poetry Festival to bring you the final Brisbane heat.
A massive night of 20 performers will sign up and compete for a chance to represent in the QLD finals for the Australian Poetry Slam.
If you see one poetry slam this year, this is the one to catch. Performers are given a STRICT 2 mins on the mic, to perform an original poem. No props, no backing tracks, just them and the mic.
As well as all the slammers and the usual Ruckus ridiculousness, there will be TWO international feature sets from poets HOLLIE MCNISH and JOELLE TAYLOR.