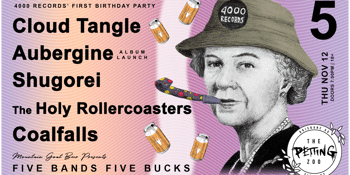 4000 Records
5 BANDS FOR 5 BUCKS - November 2020
The Zoo (Fortitude Valley, QLD)
Thursday, 12 November 2020 7:00 PM
4000 RECORD PRESENTS
5 BANDS FOR 5 BUCKS IS BACK BABY
LIMITED TO 100 TICKETS SO GET IN QUICK
4000 Records are excited to present the 3rd instalment of their run of 1st birthday shows! Boasting incredible bang for your buck as part of The Zoo's iconic 'Five Bands Five Bucks' series. The evening's musical offerings include the lusciously dark Cloud Tangle in full band mode, the mind-bending electro-percussion duo Shugorei, feel-good toe-tappers The Holy Rollercoasters, the Brisbane debut performance and 7" launch of instrumental dreamgaze architects Coalfalls and the criminally beautiful lullabies of Edgar Hurley.

7:30pm - 8:00pm: Edgar Hurley
8:15pm - 8:45pm: Coalfalls (7" launch)
9:00pm - 9:30pm: The Holy Rollercoasters
9:45pm - 10:15pm: Shugorei
10:30pm - 11:15pm: Cloud Tangle
**** This gig is seated, If you are planning on coming in a group of 4 or more, please arrive at the same time so you can be wrist-banded as a group ***
​​
Delivering more bang for your buck, come and check out your new favourite bands in a special edition of 5 bands for 5 bucks.
Featuring
7:30pm - 8:00pm: Coalfalls (single launch)
8:15pm - 8:45pm: The Holy Rollercoasters
9:00pm - 9:30pm: Shugorei
9:45pm - 10:15pm: Aubergine [single launch]
10:30pm - 11:15pm: Cloud Tangle
SAFETY
At all times we will be working within approved COVID SAFE PLANS, Restrictions & guidelines, while trying to preserve an authentic live music experience.
For concerns or queries on safety please reach out to the venue direct for information on our COVID SAFE PLANS and measures for ticket holders, artists and staff.