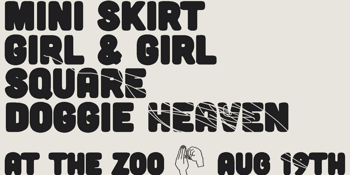 Colossus Records Presents
Colossus 4th Birthday
Mini Skirt, Girl and Girl, Square, Doggie Heaven
The Zoo (Fortitude Valley, QLD)
Friday, 19 August 2022 7:30 pm
In celebration of Colossus records 4th Birthday well be holding shows across 4 regions/cities! Meanjin (Brisbane), Naarm (Melbourne), Gadigal (Sydney) & Walyalup (Fremantle) with some of our favourite Local Acts!
Joining us for our Meanjin/Brisbane show at The Zoo is the Formidable Mini Skirt, Girl and Girl with their electric post indie presence, Square with their high energy performance on stage and Doggie Heaven!
This event takes place on stolen land. We pay our respects to the elders Past, Present and Emerging. Sovereignty was never ceded.