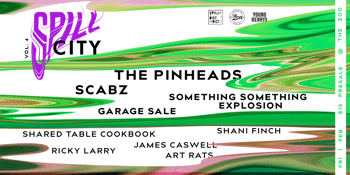 Spill District & The Zoo
Spill City ~ Vol. 4
The Pinheads
The Zoo (Fortitude Valley, QLD)
Friday, 1 February 2019 7:00 PM
Spill City
is a new, bi-monthly, multi-arts platform for artists and musicians to offer new perspectives, ask questions and spill ideas. Our ethos is about creating an explorative, accepting and diverse space with a broad showcase of talent focusing on interactivity and participation. This is an opportunity for makers to reach a new demographic and share an innovative zone with like-minded, creative creatures.
We've got fun things to tickle all the senses with makers from all walks of the art realm.
Presale: $10 + BF
Door: $15
Headlining this one we have The Pinheads as part of their National Tour!
Supports:
SCABZ
Something Something Explosion
Garage Sale
Creative Lineup:
Shared Table Cookbook
Ricky Larry
James Caswell
Shani Finch
Art Rats
Bring your mf party pants because we're bringing so many activities!
Sponsored by
Young Henrys
♥