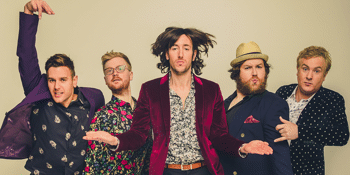 123 Agency present
Vaudeville Smash
with special guests
The Zoo (Fortitude Valley, QLD)
Saturday, 3 November 2018 6:00 pm
DOORS FROM 6PM, MUSIC FROM 8PM

Made up of three brothers and two mates, no other Australian band sounds like 'em. An explosion of funk, flute, sax, synth and groove, the dance floor is packed at a VAUDEVILLE SMASH gig. In case you're wondering, they took their name from an Italian children's karaoke machine that was around in the late '80s.

In 2016, VAUDEVILLE SMASH released their sophomore album The Gift. A synth heavy, sax laden, bass induced journey. A contemporary reworking of the early 80s funk/boogie scene, the album evokes visions of Cameo, Midnight Star and the Gap Band and encompasses almost two years of writing, recording and touring.