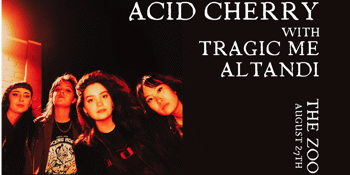 The Zoo Presents
ACID CHERRY
With TRAGIC ME and ALTANDI
The Zoo (Fortitude Valley, QLD)
Saturday, 27 August 2022 7:30 pm
Blood spatters, on stage choke outs and femme fatal dominance are just a few of the things you may encounter at an
Acid Cherry
show. Born and bred in Brisbane, Acid Cherry is an all girl grunge metal four piece with no intention of producing family friendly content. Taking inspiration from your fave 90s grunge and early 2000s nu-metal bands, this thunderous four piece have a sound that will both stimulate and shock you. Basing their stage presence on shock factor and theatrics, Acid Cherry will give you a show you will remember.
Tragic Me
are a 4 piece alt-rock/moody pop band from Brisbane, Australia whose songs explore the emotions and challenges that life can present as a young adult. With a diverse range of influences, Tragic Me loves to create music that is both catchy and unique, focusing on creating each song individually, avoiding genre boundaries. After spending the last few months in the studio, they are set to hit 2022 running with new releases and new energy.

Birthed in South Brisbane, Australia - Altandi is a 4 piece band of bothers - bound by blood, law and spirit. With their most recent release "GUTTER" the band continues to showcase their sonic versatility. With a wide variety of influences, the band isn't so easily defined by a single song. Elements of pop, punk, emo and indie can be heard all throughout their discography - and, just like any good book, Altandi has so much to offer within its pages. The group debuted mid-2021 with their single "Better Man" found on the back half of their debut EP "Hearts & Minds". This laid the foundation that would support their progression as one of Brisbanes newest rock bands.