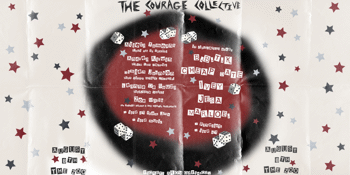 Qmusic, Winter Sessions, 97 Joyride Agency & JESA proudly present
The Courage Collective with IVEY, MARLOE, JESA, CHEAP DATE AND BBTK
The Zoo (Fortitude Valley, QLD)
Sunday, 24 April 2022 12:00 pm
Introducing, The Courage Collective,
a new event created to represent a safe, diverse and inclusive space for women and non-binary people in the music and arts industry, while celebrating their contribution to the arts.
Taking place at The Zoo on 24th April 2022 in Meanjin (Brisbane) as a part of the Brisbane City Council & QMusic Winter Sessions Festival, the event is set to feature an industry panel, live art and performances to raise awareness and create conversations around the collective struggles minorities face in the creative arts field. Music industry organisation
Support Act
are also providing mental health resources on the night, creating a safe space and unique opportunity to engage in open discussions concerning the mistreatment and inequality of women and non-binary people within the scene. With a panel featuring key industry members
Leanne De Souza
(Nightlife Music, QPAC),
Ali Tomoana
(Soul Has No Tempo Records),
Andrea Kirwin
(Peace Run Records),
Damien Johnson
(Non-Binary Artist) and
Zoe Maras
(97 Joyride Agency, The Courage Collective).
Created by 97 Joyride Agency's Founder
Zoe Maras
and Artist & Educator
JESA
, the duo are advocates for equality and paving an inclusive and safe pathway for women and non-binary people within the creative arts. Contributing to the cultural shift the industry is currently facing,
The Courage Collective
creates a home and sense of belonging for women and non-binary people that have been lost amongst the male-dominated creative scene.
"
The Courage Collective is a conceptualised safe space that celebrates us as creatives and allows us to find empowerment and joy through community. It's about story-telling, expression and release through music, art and conversation", states Zoe Maras.
".... essentially
we created The Courage Collective as a live event series that focuses on honouring the beautiful diversity in arts where we can come together in unity and feel seen, heard and acknowledged", Jesa concludes.
Boasting a stellar lineup, The Courage Collective will have exclusive performances by B.B.T.K, CHEAP DATE, IVEY, JESA & MARLOE. Amidst the performances will also be music industry panel appearances by The Courage Collective's Founder herself Zoe Maras, as well as Leanne De Souza, Damien Johnson, Andrea Kirwin and Ali Tomoana and live, free roaming art by Jodi Metta.
All ticket sales made from this event will be donated to Zig Zag & _, and partial funds will be delivered back to the creatives involved.
97 Joyride Agency and JESA respectfully acknowledge the Traditional Custodians of the land in which this event is taking place, the Yuggera, Turrbal and Jagera people. We would like to respectfully acknowledge that sovereignty was never ceded, and wish to pay our respects to Aboriginal and Torres Strait Islander Elders past, present and emerging.
This event is also presented by 97 Joyride Agency which means this show has a zero-tolerance to any forms of intimidation and harassment. Please leave any bigotry at home.
Sponsors and Partners:
(in alphabetical order)
4ZZZ,
97 Joyride Agency,
Brisbane City Council,
Brisbane Winter Sessions Festival,
Downes Shoes,
Heaps Normal Non-Alcoholic Beers,
Immerse Events,
JESA,
Merlo Coffee,
Netherworld Arcade,
QMusic,
Support Act &
The Zoo.
Non-for-profit charities donating to: (in alphabetical order) Healing Foundation &
Zig Zag.