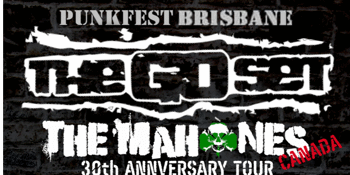 The Go Set / The Mahones (Canada)
Punkfest Birthday Bash
The Zoo (Fortitude Valley, QLD)
Saturday, 28 November 2020 7:00 pm
The annual Punkfest Birthday Bash is on again, and this year with some regulars and some surprise internationals!
The Go Set make a return to venues around the country armed with a brand new record. Since 2003, The Go Set have remained a stalwart of independent music in Australia, having released seven records on it's own label before a recent teaming with ABC label Four Four. The Go Set are a unique sound, combining bagpipes, fiddles, and punk rock guitars. They've amassed more than 1000 live shows across 25 countries, becoming a summer favourite on festivals throughout the USA and Europe.
Along for the ride are Canadian friends The Mahones, also no strangers to the DIY touring ethic, and touringAustralia for the first time since 2005. This will be their 30th Anniversary tour, and a tribute to a band who has left a legacy of Irish Punk Anthems in its path.