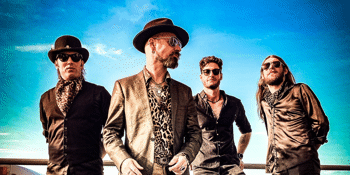 The Harbour Agency present
CANCELLED - Pseudo Echo
The Zoo (Fortitude Valley, QLD)
Friday, 21 May 2021 7:00 PM
Pseudo Echo are one of Australia's leading recording and touring acts, having pioneered the '80s, with their stylized look and electro sound, establishing themselves as one of the most iconic and influential, multi award-winning bands in the country.

The band has produced several Top 10 hits including " Listening", "A Beat for You", "Don't Go", "Love An Adventure" and "Living in a Dream", as well as Gold/Platinum albums "Autumnal Park", "Love An Adventure" and "Race", culminating with their worldwide smash-hit "Funky Town"!

Pseudo Echo continue to release new material including the albums "Teleporter", "Ultraviolet", "301 Demos", "Live at the Viper Room", and "Acoustica" ... with a brand new album "Afterparty" set for release in mid 2020 !

Pseudo Echo continue their legacy to this day, fronted by original founding member and producer Brian Canham.