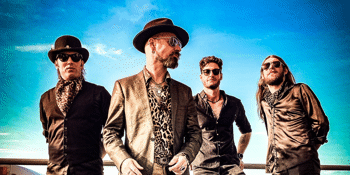 The Harbour Agency present
Pseudo Echo
The Zoo (Fortitude Valley, QLD)
Friday, 21 May 2021 7:00 PM
If you missed the newly revamped, Pseudo Echo who have been making waves rocking the big stage recently, with the likes of A-Ha, Rick Astley, Go West, A Flock Of Seagulls and I Know Leopard etc., here's your chance catch the boys on their National Tour ... up close and personal.
Pseudo Echo pioneered the 80s with their stylized look and electro sound, establishing themselves as one of the most iconic and influential bands in the country.
The band produced several Top 10 hits including " Listening", "A Beat for You", "Don't Go", "Love An Adventure" and "Living in a Dream", as well as Gold/Platinum albums "Autumnal Park", "Love An Adventure" and "Race", culminating with their worldwide smash-hit "Funky Town"!
Pseudo Echo continue to release new material including the albums "Teleporter", "Ultraviolet" and "Live at the Viper Room" (recorded at the legendary Viper Room in LA), as well as an "electro-funk-rock" version of the 70's Classic "Nutbush City Limits", which has proven to be a crowd pleaser with audiences of all ages.
The band is back with a new look and sound, fronted by original founding member Brian Canham (known for his brooding vocals and ever evolving fashion style).
Their live show features dual keytars, blazing raw guitar and electronic drums, playing all their hits, as well as a mega-mix extended version of their international smash hit "Funky Town" and a few surprises!