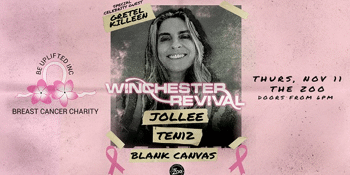 Rock 'n' Roll for breast cancer, hosted by Gretel Killeen ft, Winchester Revival + Local Bands & special guests!!
with Blank Canvas, Ten12, Jollee, Winchester Revival, Gretel Killeen
The Zoo (Fortitude Valley, QLD)
Thursday, 11 November 2021 6:30 PM
LET'S GET TOGETHER AND ROCK N ROLL FOR BREAST CANCER!
This is gonna be a crazy & beautiful night with a full line up of rock n roll bands, hosted by GRETEL KILLEEN!! Gretel Killeen is a cultural legend having hosted award winning TV shows, written best selling novels, performed comedy across the nation and championed the rights of women throughout her extraordinary career.
Winchester Revival have always carried a soft spot in their hearts for breast cancer and have worked hard putting on this amazing line-up of talent to bring people together for a great cause. Winchester Revival will also be launching their new self-titled EP 'Reborn, Reformed, Revive.' It's been a tough year for Winchester Revival but this self-titled EP is their ticket to the next level of success!
Ticket & raffle sales will go towards the Be Uplifted Breast Cancer Foundation! Be Uplifted Inc is a unique breast cancer charity that seeks to improve the lives of women, men and their families experiencing difficulty or disadvantage as a consequence of breast cancer.
Be Uplifted is a registered charity that focuses on offering practical support and financial assistance to breast cancer patients and survivors.
There will be a $10 raffle on the night to win a free SIGNED GUITAR with a short message by Gretel Killeen, all the bands & Be Uplifted! All raffle sales will go directly to the Be Uplifted Breast Cancer Foundation
Support acts for this night are - Blank Canvas, Ten12 & Jollee!! Three amazing and solid bands that you don't wanna miss!!
!!TICKETS ON SALE NOW @ OZTIX!!