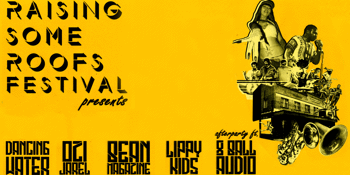 Szephyr Guitars
Raising Some Roofs Festival Presents
Dancing Water, Ozi Jarel and band, Bean Magazine, Lippy Kids, 8ball audio afterparty ft. Bustaflux, Grug, Duos
The Zoo (Fortitude Valley, QLD)
Fri 22 - Sat 23 July 2022 7:30 pm
After a shaky start to 2022, Raising some Roofs Festival is back for a special relaunch show on the 22nd of July at Brisbane's most loved Music Hub The Zoo!

Raising Some Roofs began as a project to create safe space social programming for displaced and disenfranchised members of our community linking through local charity & support organisations present in Meanjin. Our goal is to provide opportunities for organisations and individuals to engage with social events in a safe environment to regain personal agency and find joy within our community through music.


As Such this event series is focused on both empowering our local musicians while also uplifting members of our community who both either have been disenfranchised, and whose mission is to help those who have been disenfranchised. A portion of proceeds from this event, (and future events) will be donated to a nominated local charity organisation and tickets will be made available to both clients and staff of said organisation. We are proud to present this event to you all in support of the "Romero Centre," an amazing organisation that is dedicated to the support and wellbeing of refugees seeking asylum in Australia! We thank you for your tireless work and continued dedication to the wellbeing of those who need it most.


Kicking our upcoming satellite event series, "Raising Some Roofs Festival Presents" is a multi genre foray into some of the best rising and underground music currently present in Meanjin featuring "Dancing Water," " Ozi Jarel," "Bean Magazine," "Lippy Kids" and a very special after party featuring "8Ball audio" !

We're excited to bring you all a spectacular night of Music, roots, punk, soul and as much dancing as you need to fill your cup! Join us on the 22nd and let's celebrate the return of live music!


P.s. if you contribute to a local support organisation or know individuals who would benefit from this event then please contact us through either Raising Some Roofs or Szephyr Guitars and we would love to include you in this event or future events!