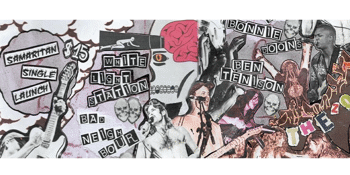 White Light Station "Samaritan" Single Launch
with Ben Tenison, The Bonnie Doons and Bad Neighbour
The Zoo (Fortitude Valley, QLD)
Thursday, 13 May 2021 6:30 PM
The band recently sat down to have a hard think about what we're doing. Where do we want to go with this? What is our purpose? It generally stopped us in our tracks.
We thought it was the end.
Jack then stood up from his seat, looked at us all in the eyes and said…
"We should probably release some music."
Then we had a moment like in that Old El Paso hard/soft taco ad where they pick up the little girl and have a fiesta. Except we didn't actually pick up Jack or have a fiesta. We were all kind of just like "yeah okay that's a good idea."
A slightly embarrassingly long time later, IT'S READY.
We'll be releasing our single 'Samaritan' at The Zoo with a bunch of our favourite brissy bands. Get around the details above.