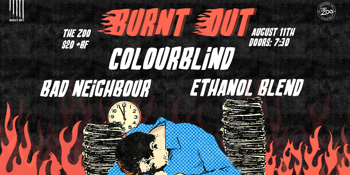 The Zoo Presents
BURNT OUT
COLOURBLIND, BAD NEIGHBOUR and ETHANOL BLEND
The Zoo (Fortitude Valley, QLD)
Thursday, 11 August 2022 7:30 pm
Burnt out is a new series that focus on Alternative artists from both the local Brisbane scene as well as interstate artists.
August Features South Australian band COLOURBLIND. Singing every single word, embracing your best mates - all the right moves for a cathartic experience, which has shone the band out of their home-town into the national spotlight. Their 2018 EP 'Move Like You' continues to resonate with fans, selling out rooms, overpowering the band screaming each lyric. Support of 'Move Like You' is growing, accumulating over 2 million streams with no signs of slowing down. The release followed with a string of supports with Grinspoon, Clowns, BUGS, These New South Whales, TOWNS, Sweater Curse, Good Boy and Carb on Carb (NZ) to name a few. "They're a band who deserve your attention with every move they make" - Rolling Stone Australia"
Supported by Brisbane punk locals BAD NEIGHBOUR. The band are about to release their 2nd EP which goes down a much more darker and heavier path than the last. The band have been working on their sound and performance for that last year and have finally figured it out for themselves. The show is not one to miss.
And finally, ETHANOL BLEND, a 4 piece table rock band from South Australia will be kicking off the night