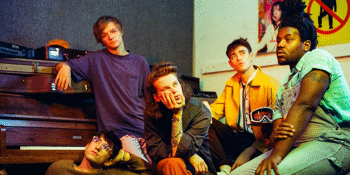 Handsome Tours presents
Hippo Campus
with special guests
The Zoo (Fortitude Valley, QLD)
Tuesday, 12 March 2019 7:00 PM
Handsome Tours is excited to announce Hippo Campus' debut tour of Australia in March 2019.
When Hippo Campus formed in 2013, their intentions were pure and simple. "We were in high school and the main idea was, 'Let's start a band and make our friends dance,'" Zach Sutton from the band recalls. "There was no real context to what we were doing - it was just total creative joy."
But over the past five years, that context has shifted dramatically. The world around them warped into something bleak and unsteady, and reckoning with mental health issues became more and more crucial. On their sophomore album Bambi, the St. Paul, Minnesota-bred band navigate that upheaval with deliberate self-reflection. The result is a selection of songs that drift into much darker terrain, but unfold with a frenetic yet fragile beauty that makes even the most painful moments feel glorious.