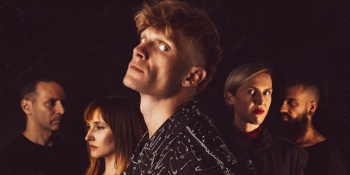 Live Nation Presents
MOTHER MOTHER
With Special Guests
The Zoo (Fortitude Valley, QLD)
Monday, 20 February 2023 7:30 pm
After a mammoth decade, Vancouver's MOTHER MOTHER are finally heading to Australia and New Zealand for a headline tour in February 2023.
The five-piece - comprised of Ryan Guldemond, Molly Guldemond, Jasmin Parkin, Ali Siadat and Mike Young – will perform at The Zoo, on Monday, February 20, 2023.
Of the tour, front man Ryan Guldemond says:
"We feel so very lucky to be able to tour the world doing what we love. We haven't been to Australia and New Zealand yet as a band, so we are beyond excited to play for our fans there, who have been incredibly supportive and patient. We can't wait!"
MOTHER MOTHER have had a whirlwind decade; over 2 billion streams and views, more than 16 million monthly listeners on digital platforms, 4.1 million Shazam searches and sold-out tour dates across the globe.
The band also featured in Rolling Stone, a performance on The Late Late Show with James Corden, and made several appearances of late in Billboard's Emerging Artist Chart.
Globally, the band's avid fanbase continues to grow exponentially, as their presence on TikTok organically exploded during the fall of 2020 during lockdown. A variety of songs from O My Heart and Touch Up were used virally on the platform over 330 million times, resulting in millions of streams and new followers on streaming platforms and socials.
With their skyrocket to fame and one-of-a-kind sound, this is one show that's not to be missed!
TICKETS ON SALE 1PM, FRIDAY 15 JULY
My Live Nation presale 1pm Wednesday 13 July – 12pm Friday 15 July
For complete tour and ticket information, visit: livenation.com.au