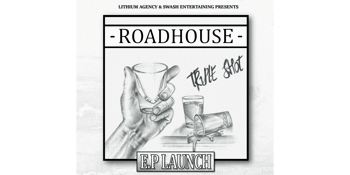 Lithium Agency & Swash presents
ROADHOUSE Triple Shot EP Launch
with Augusta, The Eagle Junction & Whisky Grinn
The Zoo (Fortitude Valley, QLD)
Friday, 3 August 2018 8:00 PM
Triple release for 'Triple Shot' – Brisbane Aussie Rock 4 piece Roadhouse are on a mission to spread hard hitting, blood pumping rock to the world with their new music video 'Long Live Rock N'Roll', second EP 'Triple Shot' and announce their upcoming tour.

After the release of their well-received debut EP 'Walking Tall' in December 2017, Roadhouse are ready to pour rock n' roll passion into audiences with their upcoming release 'Triple Shot' - coming 3 August 2018.
With thematic ties to alcohol, 'Triple Shot' serves up three tracks filled to the brim with blazing riffs and intoxicating groove, topped with the fiery rock spirit that Roadhouse live and breathe.

This round's on Roadhouse in 'Take a Seat' - the first track off 'Triple Shot' (EP produced by Andy Kellie –Zelita, Silver Citizen, Blind Lucy; mastered by Andrew Edgson of Studios 301 – Matt Corby, The Kite String Tangle, Tia Gostelow), with the second track 'My Elixir' singing of the "girl of their dreams" in a track as tough and memorable as she is.

'Long Live Rock N' Roll' is the third track on 'Triple Shot', and the song to be featured in their new music video. "Knocking on the front door, kicking in the back door", the track is zealous and punchy right from the start, with the power and high intensity of classic rock n' roll.

This music video marks the first where Roadhouse (Chris Byrne – lead vocals, Doug Eustace – guitar/vocals, Dan Nembach – bass/vocals & Anthony Trudgett – drums/vocals) have worked with a production crew (directed by Adam Hasa). The video brings together the brotherhood of Roadhouse to "go all night" spreading their message of rock n' roll grit, adeptly capturing the story of four rock-enthusiasts joining together to proudly "raise their fists" for the genre that "feeds their soul".
Throwing in a shoey for good measure, the final scenes (filmed at Brisbane's Tomcat) capture the energy and enthusiasm that is abundant at Roadhouse's live shows.

Since their first live performance in February 2016, Roadhouse have played a multitude of venues across Brisbane, Ipswich, Bundaberg and the Gold Coast (including The Zoo, Woolly Mammoth, Crowbar, Miami Shark Bar, and Dusty's Bar & Grill). They have carved themselves a reputation for their electrifying stage presence and their vigorous live shows bolstering well-crafted modern rock anthems.