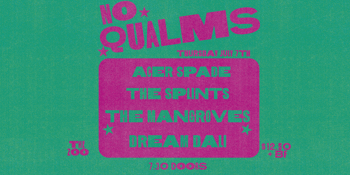 The Zoo
No Qualms
Acer Spade, SAMMM. The Mangroves and Dream Dali
The Zoo (Fortitude Valley, QLD)
Thursday, 7 July 2022 7:30 PM
Long, busy week? Come in, relax and forget your worries while checking out some great up and coming bands, both local and interstate, here at The Zoo.
Featuring:
ACER SPADE is a collaborative project from the minds of Lindsey Nolan and Rhys Evans. The Brisbane based duo share a mutual appreciation and passion for electronic music and combine both artists' unique musical backgrounds of alt-pop and EDM into one.
Bad Mums Band is an emerging trio of like-minded artists from Meanjin. Fronted by Kiki, a powerhouse frontwoman, Bad Mums uses their medium to move you both physically and emotionally. With influences ranging from Radiohead to Phoebe Bridgers to Violent Soho, their unique sound is bound to take you far, far away from here. With Niko on drums and Jarred on guitar, Bad Mums Band is one you're not gonna want to miss.
Originally formed in 1982, The Mangroves cryogenically froze themselves under strict instructions only to be revived during Brisbane's renaissance. That time is here. They play indie rock for Brisbane, by Brisbane, and about Brisbane.
and last but certainly not least
Brisbane based artist Dream Dali, present an intoxicating blend of revered guitars, droning synths and strikingly hypnotic drums that unearths a mordern fusion in dark-wave psychedlia. Drawing inspiration from artists like Liquid Liquid, The Doors and The Cure.
Get down early and enjoy our drink and pizza deals while watching some up and coming artists from around Brisbane.