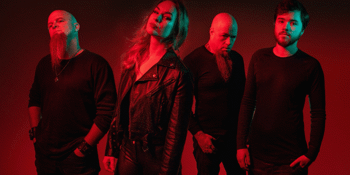 Silverback Touring presents
CANCELLED - Devilskin
with Shepherds Reign & guests
The Zoo (Fortitude Valley, QLD)
Saturday, 22 May 2021 6:30 pm
Hard-hitting Kiwi band DEVILSKIN are set to return to Australia for a headline tour this May thanks to Silverback Touring.
DEVILSKIN released their critically acclaimed third studio album RED last April and stunned Australian crowds on tours with HALESTORM, SLASH Ft. Miles Kennedy, and the Conspirators and a coveted appearance on Download Festival Australia in 2019.
DEVILSKIN have garnered a formidable reputation, solid fan-base, and a swathe of brilliant live reviews across the world, a testament to the groundswell of support for the hard-working New Zealand act.
The title of their latest album RED is significant, it is the universal colour of passion, vitality, blood, danger, romance, anger, horror and love; everything evocative. Of all the colours, RED is a warning and a statement.
Joining DEVILSKIN are fellow Kiwi's SHEPHERD REIGN on their first-ever Australian visit. SHEPHERDS REIGN are a Polynesian Metal band made up of 5 brothers: Pacific, Māori and Asian, who are united in their passion for writing and performing hard-hitting music that expresses where they are from and shares their life experiences. It's metal with melodic thick textures and big melodies, delivered with attitude and conviction. Their most recent release "Le Manu" has received close to two million views on YouTube.
SHEPHERDS REIGN is best experienced live, where each band member gives it their all and aims to smack the audience in the face with their performance. The live show is a culmination of years of playing together and developing their natural chemistry and here is where they are most powerful.
Rounding out the all-metal assault are Brisbane band, THESE FOUR WALLS on the back of their million stream strong new album, This Is Not A Future and Sydney alt-metal band, BAD MOON BORN, who have established quite the reputation Australia wide as a powerhouse live act.