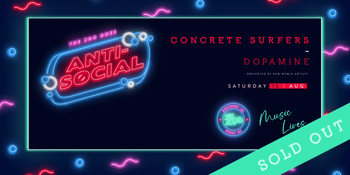 New World Artists presents
Anti-Social Ft. Concrete Surfers - Session two
with Dopamine
The Zoo (Fortitude Valley, QLD)
Saturday, 15 August 2020 9:20 PM
WELCOME BACK LIVE MUSIC!
Grab your ticket and help keep your local artists and venues alive.
LIMITED TO 100 TICKETS SO GET IN QUICK
**** If you are planning on coming in a group of 4 or more, please arrive at the same time so you can be wrist-banded as a group ***
The launch of The Zoo's Anti-Social series is centred around embracing change and adapting to new thought process while focusing on and supporting local and grassroots artists.
We are stoked to announce...
CONCRETE SURFERS
Supported by Dopamine

SESSION 1 Doors 6.30pm

SESSION 1 SET TIMES
7:00pm - 7:20pm: DOPAMINE
7:50pm - 8:35pm: CONCRETE SURFERS
TICKET HOLDERS EXIT BY
8.50pm
SESSION 2 Doors
9.20pm
SESSION 2 SET TIMES
9:50pm - 10:10pm: DOPAMINE
10:40pm - 11:25pm: CONCRETE SURFERS
TICKET HOLDERS EXIT BY
11.50pm
Brisbane's Concrete Surfers deliver huge walls of fuzz and bass with forward thinking lyrics and an anti-establishment flair.
Brothers Jovi & Jamie Brook (vocals, guitar and drums respectively) paired up with mates Sean Foster (lead guitar) and Trent Courtenay (bass) in high school for what has become a fast-moving trajectory for the group of four kids from the South East Queensland suburbs.
After selling out hometown shows, releasing their sophomore EP 'My Life On Repeat' and having already supported heavyweights like Royal Blood (UK), The Cribs (UK), The Jungle Giants, Ruby Fields, WAAX, Ocean Alley, The Gooch Palms and more, Concrete Surfers were invited to join the 2019 BIGSOUND lineup and packed out their official showcase venues with raving reviews.
Concrete Surfers started 2020 with an appearance at Falls Festival in Byron Bay on a line up featuring Vampire Weekend, Halsey, WAAX, Amyl & The Sniffers and more. They followed up this with a last minute hometown headliner show to raise money for the Australian bushfires and sold out the gig in 4 days.
The Music labelled Concrete Surfers as "one of the best rock bands to come out of Queensland in recent memory"and theirlatest single, 'Shattered Thoughts' is the perfect, gritty offering ahead of what was a busy end to 2019.
The band is gearing up to release their next single Never Understoodand will be touring the country throughout April with more music, festival appearances and live dates to be announced soon.
INTRODUCING DOPAMINE
Equally inspired by the classic sounds of The Beatles and Sex Pistols to the amphetamine fueled groove of Manchester bands The Stone Roses and Happy Mondays, Dopamine are a
5-piece alternative rock band hailing from Brisbane, Australia. The group, comprised of frontman Finley Miller, bass guitarist Ruby Lee, rhythm guitarist Finn 'Diggsy' Diggles, lead guitarist Luke Gregory and drummer Oliver Whitaker, have been making waves in the industry - performing their ecstatic live shows to a repeat offender fan-base.
Since the release of their first single 'Ordinary People', the group have set themselves up as one of the city's most exciting names in rich indie-rock. By combining catchy hooks and earworming rhythms with subtleties of punk and Britpop, the quintet has put themselves in a unique lane amongst a quickly-saturating music scene. This resulted in the five-piece moving on to support The Delta Riggs and Last Dinosaurs amongst sold-out shows of their
own, positioning themselves as local favourites on the live music circuit.
Dopamine's set brings an electrifying stage presence to light, along with a remarkable setlist to back it up; the group has been described as "Brisbane's next shining young guitar group" (GRAINZINE) and a "good reminder of how fun a solid guitar-driven band can be" (LIVEWIRE). With the release of their second single 'Decide' in 2019, Dopamine proves that they are a force to be reckoned with that have no intention of slowing down
Tickets prices are broken down into two parts -
1. The Ticket Price
All money from tickets go directly to the artists.
2. The $40 Minimum Venue Spend
While the capacity of venues remains restricted to 100 people, implementing a minimum spend within the venue affords a small security blanket for the venue and all its employees to be able to open the doors.
$40 of venue credits will be given to ticket holders at the door upon entry
These credits will entitle each ticket holder to a redemption in the venue on the night.
Venue credits can be used for alcoholic & non alcoholic beverages and zoo crew merch.
SAFETY
At all times we will be working within approved COVID SAFE PLANS, Restrictions & guidelines, while trying to preserve an authentic live music experience.
For concerns or queries on safety please reach out to the venue direct for information on our COVID SAFE PLANS and measures for ticket holders, artists and staff.