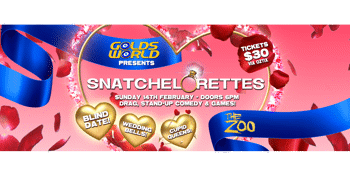 GoldsWORLD Presents: SNATCHELORETTES
The Zoo (Fortitude Valley, QLD)
Sunday, 14 February 2021 6:30 PM
GoldsWORLD Presents: SNATCHELORETTES
Press Release
Smack those lips and slip into somethin' more comfortable – singles, minglers, couples and flirts, your Sacred Journey of Love begins here. Whether you're happily involved and looking for a lil' lift in your love-life, or sportingly single but ready to play the field, GoldsWORLDproudly welcomes you to SNATCHELORETTES, your Valentine's Day Sweetheart Spectacular.
Be swept off your feet by our enchanting Lovebirds, eager to dazzle you into a second date with scintillating drag performances and electric burlesque. Join Anya Bike, Penelope Cruises, Roxanne Redacted andRuby Blue Valentine as their beauty and grace sends you scrambling to pen down their numbers.
Plus, heartthrob, heartbreaker and real pain in the heart Imogen Behan-Willettwill have you splitting at the sides when she opens the show with a heart-stopping stand-up set. Will somebody dial the ER?
𝙁𝙄𝙉𝘿
𝙇𝙊𝙑𝙀
when we play "
𝘽𝙇𝙄𝙉𝘿
𝘿𝘼𝙏𝙀
". Free from the bounds of superficial first impressions, one lucky Sweetheart from our audience will fall head over heels in everlasting love with one of three alluring possible matches. Question by question by answer will lead our Sweetheart to their Very Special Friend... but love's not the only prize they'll be playing for!
𝘽𝘼𝙍𝙀
𝙒𝙄𝙏𝙉𝙀𝙎𝙎
to happily-ever-after when two lovebirds tie the knot, in "
𝙀𝙔𝙀
𝘿𝙊
". Just who are we wedding? Who knows! And neither do our surprise Sweethearts. Walk with us down an impromptu aisle as our "social experiment" (if we can call it that) unites a coupl'a soulmates in holy matrimony, married at first sight by our in-house celebrant (who, at the very least, did the TAFE course).
PLUS! Got something to get off your chest (or, on... )? Let your lover, present or hopeful, know just how much you care with a heartfelt message directly into our "
𝙇𝙊𝙑𝙄𝙉
'
𝘽𝙊𝙓
". We'll distribute your messages throughout the evening... as to where they'll land, however...
Will you accept this rose? Join in on the lovin' by snatching your tickets NOW.
[By purchasing your ticket, you consent to the possibility of being involved in elements of the show requiring audience participation, both on-stage and off].
GoldsWORLD and The Zoo respectfully acknowledge the traditional custodians of the land on which this event is held on, and pay respects to its elders, past and present. We also pay our respects to the First Nations community in attendance. We acknowledge sovereignty as having never been ceded.