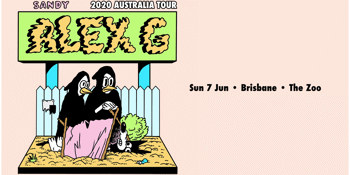 I OH YOU & Frontier Touring Presents
CANCELLED - (Sandy) Alex G
with special guests
The Zoo (Fortitude Valley, QLD)
Sunday, 7 June 2020 7:00 pm
Frontier Touring and I OH YOU are excited to announce the return of Philadelphia lo-fi mastermind (Sandy) Alex G, performing three headline shows across Melbourne, Sydney and Brisbane this June. This will be his first run of performances on our shores in two years and his first time headlining in Brisbane.
2020 is already shaping up to be a massive year for (Sandy) Alex G, with dates booked across Europe early March, a string of festivals back in the US and his Australian shows. The singer-songwriter will hit the US off the back of his European dates, perform sets at California's Coachella and Miami's III Points Festival before showcasing his prolific recording career to Australia.
The past few years have been equally as huge for (Sandy). In 2016 he featured on Frank Ocean's acclaimed Blonde album, including tracks ' Self Control' and ' White Ferrari' and went on to sell out both of his debut Australian headline shows in 2018.
2019 saw the release of his ninth and most recent studio album - House Of Sugar (out now through Domino) featuring fan favourite tracks ' Gretel', ' Southern Sky' and ' Hope'. The album has earned him praise by critics across the board. Pitchfork included House Of Sugar on it's 'Best New Music' list further affirming that it 'might be his best (album) yet'.
'If there was any doubt that (Sandy) Alex G is the Elliott Smith of this generation, turn to House Of Sugar.' – STEREOGUM
'House of Sugar is a layered, ever-changing work from an artist who seems to have no limits in taking his music anywhere his imagination can go.' – ESQUIRE
'As a live performer, the audience was still able to gain a personal experience with a more intense approach, slightly contrasting the sensitivity and intimate nature of his recorded material.' – Open Ears