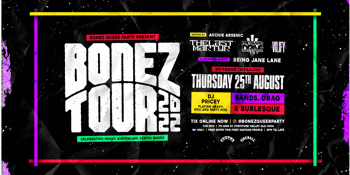 BONEZ Queer Party present
BONEZ TOUR 2022!
The Zoo (Fortitude Valley, QLD)
Thursday, 25 August 2022 7:30 pm
Celebrating Heavy Australian LGBTQI+ Bands
Featuring The Last Martyr (Vic), Five Island Drive (NSW) and Vilify (NSW)
Plus special guests, local legends Being Jane Lane
Alternative drag by Archie Arsenic
DJ Pricey playing Heavy / Emo / Alternative / Party tunes
THE LAST MARTYR
Melbourne-based heavy outfit The Last Martyr returned with a vengeance in April 2021 with a new single, 'Hindsight,' a fierce tune with a nu-metal bounce that led the four-piece to a multitude of milestones including Triple J rotation and Unearthed Feature Artist.
The band followed swiftly with, 'Afterglow;' a hard-hitting and nostalgic bop that showcased trap and electronic elements and a live performance on Metal Injection's 'Slay At Home,' YouTube series. Their blast-beat-led single 'Freaking Out' was not only their heaviest to date, but the final piece prior to dropping their EP, 'Purgatory;' produced by Chris Lalic (Windwaker, To Octavia, Rumours).
The release was met with critical acclaim with NME declaring, "This five-track project is filled with gut-punch riffs, powerful vocals and propulsive blast beats," and Hysteria Magazine gushing, "Hellishly good or heaven-sent, however you want to spin it, it doesn't get more epic than Purgatory."
They kicked off 2022 playing one of Australia's most loved Heavy music festivals, 'Unify Gathering' and in August will be headlining the BONEZ east coast Australian Tour.

FIVE ISLAND DRIVE
A heavy wave trio consisting of trans vocalist Frankie Jean, German multi-instrumentalist Kim Quint, and drummer Bradley Michael de Leon.

If Denzel Curry met with Rammstein to write a Sega soundtrack, Five Island Drive might be the sonic afterbirth.Based in NSW, Australia and born out of lockdown, FID are entirely self-sufficient; they house their own studio and are composed of visual artists, producers and songwriters alike.

A wavy genesis launched in Mega Drive fever dreams, expect colourful, trance-flavoured mosh when turning on Five Island Drive.
VILIFY
Vilify are a close group of friends who officially formed a heavy band together in late 2020 with the collective goal of using their art to discuss issues close to home and heart from both a personal and observational perspective.
Being born during a pandemic has created hurdles for Vilify's extensive live touring ambitions and this has only created more of what is a the forefront of the art - being pissed off and speaking up and asking the audience to reflect on whatever it is that's being screamed in their face. Made up of various bands members with years of Australian touring experience in (The Beautiful Monument, SETMEONFIRE, Cold Era and Liberties) the collective are eager to hit the road and make a mark.
BONEZ would like to acknowledge the traditional owners of the land that our events take place on and honour their Elders past, present and emerging.
Always was, always will be Aboriginal land.