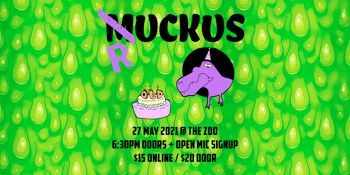 Ruckus Muckus Poetry Slam
The Zoo (Fortitude Valley, QLD)
Thursday, 27 May 2021 6:30 PM
It's May, and what better time to celebrate than with our annual MUCKUS Poetry Slam! Too many things happen in May and if you can't beat 'em, join 'em...
"What is MUCKUS?!" we hear you ask? Good question! It's very complicated: It's Ruckus... in May. Try to keep up.
Message your mate with a May birthday and peer pressure them to come along to an open mic slam poetry event. It's much more fun than it sounds on paper. Anyone can sign up and there are dinosaur puns and often a lot of heckling.