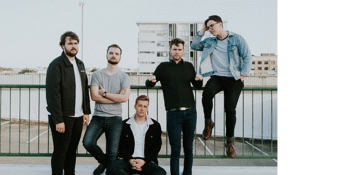 Fresco Kyoto
The Zoo (Fortitude Valley, QLD)
Saturday, 30 March 2019 7:00 pm

One of Brisbane's most impressive young live acts, Fresco Kyoto is a band that puts a premium on mood, texture and rich aural detail. Showcasing dramatic dynamics, exceptional musicianship and immediately captivating melodies, the band's striking debut EP, Crave For Colour has just been released through Double Drummer/AWAL.

This young five piece is fronted by Robbie Balmer, one of the most extraordinarily gifted young singers currently doing the rounds. Covering themes of self-realisation and self-discovery, Crave for Colour follows a coming of age narrative arc from Balmer's point of view. It features four tracks – three of which were produced and mixed by the band's own Cody McWater.

The band will be celebrating their debut release at The Zoo - one of their favourite Brisbane venues - on March 30th, and it is set to be one of their most exciting shows to date.