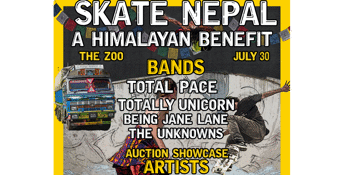 SKATE NEPAL
The Zoo (Fortitude Valley, QLD)
Friday, 30 July 2021 6:30 pm
Nepal first opened its gates to the outside world in 1951 and has been playing catch up since all the while battling; civil unrest, city crippling earthquakes and one of the most corrupt governments whom have since lost sight of the wonderful people of this small Himalayan nation.
Anyone who has felt the love, camaraderie or loyalty coming up in the Skateboarding Community and Culture - or even those similar, like those of the Arts and Music, know of the importance and power that skateboarding and other creative pursuits can provide in serving as incredible tools for individuals such as ; self-discipline, development and perseverance, as well as contributing significant physical and mental health benefits; we believe everyone is entitled to those resources. Skate Nepal was founded in 2016 and has backed nearly every Nepal-based skateboarding project since. Curating donations from brands globally, from Europe to Asia and Australia to the Americas, programming local skate workshops and events to engage the local community and most ambitiously - the building of Annurpurna Skatepark; Nepal's first international standard skatepark, located in Pokhara thanks to the collective efforts of 75 Volunteers across 20 different countries alongside NPO Make Life Skate Life.
Now in a global effort to connect the Skateboarding and Arts culture of South East Queensland to Nepal, Skate Nepal has partnered with The Zoo to showcase local artists that have created Skateboard Artworks available for auction on the night of the showcase, these artists include; Alexis Hepburn, Bob Tate, HEYAIDAN, Emmanuel Moree, Rose Onyx, Stank Grimes, Kathleen Hannavy, Billie Schneider, Nate Stanbridge and WHOBOKKU. As well as bands to perform on the night; The Unknowns, Totally Unicorn, and Total Pace.
Join the celebration on July 30th at The Zoo for an international celebration of Arts and Skateboarding with all proceeds going towards our on-going projects in Nepal.