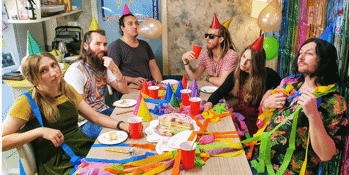 GOLDEN AGE OF BALLOONING - 'Birthday' Single Launch
with Adele & The Chandeliers, Nightwoods and Lucid Safari
The Zoo (Fortitude Valley, QLD)
Saturday, 30 January 2021 6:30 pm
Brisbane psych-rockers Golden Age of Ballooning have released a new single 'Birthday' and want to make a night of it with you at their favourite venue - The Zoo.

The amazing Adele & The Chandeliers will be there, as will the harmony-wielding song masters Nightwoods AND the sweet Reggae vibes of Lucid Safari.

Tickets are limited due to Covid restrictions and will probably sell out so get in early :o
------------

Golden Age of Ballooning:

Emerging on the Brisbane scene in 2014 as a humble side project and excuse to play Neil Young covers, six piece Golden Age of Ballooning quickly became known on the local scene for their heartfelt songs and crowded stages. Since then the band has released a dozen singles and three EP's of their unique mix of psychedelic and folk rock.

After winning the Inaugural 'Qube Effect' competition in 2015 the band became very active in the Brisbane community, performing at council events such as Brisbane Festival, Parks Alive and Story Bridge 75.

They began to win fans across the country when singles 'Love & War' and 'So They Say' both garnered strong support from local and national radio - including glowing reviews and regular airplay from Triple J and rotation spots on Double J. They grew their new fan base through touring across the country including shows with Alex Lahey, British India and Wolfmother.


Adele & The Chandeliers:

Adele & The Chandeliers formed in 2018 when Adele recruited Scott Mercer when volunteering at the Brisbane community radio station 4ZZZ . Scott (Harley Young and The Haymakers, We All Want To), plays electric guitar. In turn he brought in his friend Ash Shanahan (Harley Young and The Haymakers, Hands On Heart) who plays drums. They recorded German On My Mind - equal parts high-tension riffs, post-punk energy and Germanic rock throb in 2019 at Incremental Records, Brisbane. A studio run by Cameron Smith who engineered and mixed the single.

Trapped in a new wave echo-chamber, Adele's intentions in German On My Mind are questioned by Karin Bäumler (partner and bandmate of Robert Forster) who joined the recording session to deliver curious interjections in her native Bavarian.

"I've always had a lovely connection with Germany: I love the beer, the food, the history. I also have such fond memories of touring there with The Go-Betweens and Robert Forster. It's one of those songs that came about quickly, easily and pointed us in a particular direction that just felt natural to us a s band."

Album, 'First Date" out now.


Nightwoods:

Brisbane's brand new neo-psych rock outfit led by singer songwriters Joel and Arielle Ralph, Nightwoods deftly mixes folk, grunge, and psyche / shoe gaze elements with classic '90s indie rock.

The bands sound translates a mix of Dope Lemon, Dandy Warhols, Brian Jonestown Massacre, The Black Angels and Black Rebel Motorcycle Club. Joel and Arielle's vocals add a distinct pop sensibility to the laid back guitar driven songs, blending perfectly to create a new approach to the folk / psyche / rock genre.

Husband and Wife, Joel and Arielle have been writing and recording their own material over the last couple of years and are now set to unveil their own blend of chill rock with their band Nightwoods. Writing songs about chasing freedom, self expression, love, nature and the journey inward, they find the fine line between Joel's heavier rock, grunge, city influences and Arielle's acoustic, surfy, coastal rock sound.


Lucid Safari:

Lucid Safari is the new Indie-Reggae-Rock project of Brisbane musician Daniel J. Lewis. After performing for years as a live-looping soloist, Lewis' ambitions took a turn in the spring of 2019. On a perspective changing night with a close friend, Lewis realised his wish was to play in a band with a specific sound and energy. This was the conceptual birth of Lucid Safari, and his debut single 'Walking Free' was written the next day.

Lucid Safari hosts a rotation of rising and accomplished musicians to translate Lewis' sonic vision in the studio and on the live stage, featuring drums, bass, guitars, keys and vocals.