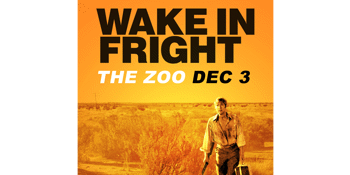 Wake in Fright new original live soundtrack by Rhyece O'Neill band
The Zoo (Fortitude Valley, QLD)
Thursday, 18 February 2021 6:30 PM
6.30pm sharp screening.
"Wake in Fright screened in full, while the exceptionally fitting Rhyece O'Neill Band bring the movie to life with an original live soundtrack." - Cactus Records
Rhyece O'Neill Band presents a live, original soundtrack to the Australian cult classic, Wake in Fright. In this performance, the band pay homage to this cult film, situating themselves off to the side of the screen, much like an orchestra would for a play, letting the already intense nature of the film take centre stage as they compliment the spaces between dialogue with desert blues guitar and driving drums.
Filmed in 1971, Wake in Fright delves into the brutal horrors and isolation of outback Australia, as an English school teacher begins his descent into madness. It was described by Robert Ebert as "Powerful, genuinely shocking and rather amazing" and Martin Scorsese reported "It left me speechless".
The live desert blues interpretation of the film both shocked and thrilled audience members at the first sold out performance at Cactus Room, Melbourne in July 19'. Viewers of the successful screening stated that the live performance both enhanced and supported the already great film and is sure to be synonymous with their memory of an already well loved classic.
This new live re-interpretation is performed with full permission from the film's Australian distributors, Mad Man Entertainment.
This new live accompaniment to 'Wake in Fright' combines an already unsettling film with the intensity of Rhyece O'Neill Band, one of Australia's most compelling blues punk bands. The gothic blues guitar, driving bass and boogie near psychotic drums provide a truly stunning context for the film's dialogue and subject matter. The Band's re-imagined soundtrack offers viewers both new and seasoned a fresh window into this giant of Australian cinema.
Because this performance makes the screening of the film a main focus, the controversial nature of the film is still very prevalent. The film depicts a wide range of themes that are only suitable for an adult audience
ABOUT Rhyece O'Neill
O'Neill has played pubs and bars in the outback and cities all over Australia and Europe. 2019 saw the release of his third solo album 'Los Diablos' which was recorded live to tape in Bohemia, Czech Republic with legendary engineer Milan Cimfe who's work credits extend to Bowie, Lou Reed and Kris Kristofferson.
Upon receiving a vision in a dream O'Neill packed his life in his car and headed out of his native Victoria the night the state was locked down amidst the pandemic. Since then he has traversed the entire east coast of Australia from his home in South Gippsland to the windy shores of Cooktown in far North Queensland. Upon returning to Brisbane he formed a new band as his band mates were stranded in Melbourne. He is joined by Christian Driscoll (Bricklayers/Full Flower Moon Band), Matthew Campbell (Bricklayers/Sweet Formidables) Edward Thomas recently returned from London and Hannah Jane (Sweet Formidables).
With this new band he has recorded a new album called "Diamantina River Blues" it will be out in November.