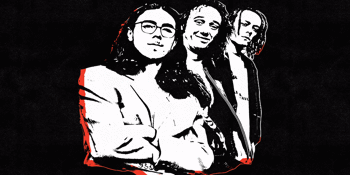 BARGAIN BIN RECORDS
THE UNKNOWNS
FLYING MACHINE / FLAMINGO JONES / HEADLICE
The Zoo (Fortitude Valley, QLD)
Friday, 4 December 2020 7:00 pm
With their raw rock 'n' roll sound and fresh punk attitude, energetic Sunshine Coast trio The
Unknowns are breathing new life into the rock scene.

Since forming at school in late 2014, The Unknowns (Josh Hardy – Vocals/Guitar, Nathan
Montgomery – Bass, Caleb Hardy – Drums) have brought their old-fashioned authentic rock to
numerous venues around Australia, including The Triffid, 170 Russell, Sol Bar, The Gov, The Zoo, The
Tote, Factory Theatre and the Barwon club.

Driven by their passion for timeless music expressing honest emotions, the band delivers an unassuming simplicity to sharing their truth through their Garage Rock/Power Pop. With dynamic live sets and their animated stage presence, The Unknowns perform with a freedom and vigour that gets crowds dancing along to their rhythm and groove.

Growing up on the Sunshine Coast with mates, The Chats, gave The Unknowns the opportunity to release their music via The Chats label Bargain Bin Records, releasing a 7" single in August of 2019 from their upcoming full length LP.

The Unknowns have toured all of Australia not only on their own headline shows but supporting the likes of;
Ed Kuepper (The Saints) for the 40th Anniversary of '(I'm) Stranded'

Frenzal Rhomb
The Chats
Clowns
Pist Idiots
The Growlers

Nothing Will Ever Stop, the debut album from The Unknowns available via Bargain Bin Records 27th November 2020.