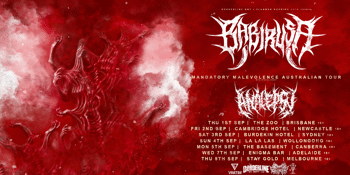 Borderline BMT & Slamman Booking Asia presents
Babirusa 'Mandatory Malevolence Australian Tour' - Brisbane 18+
w/ Analepsy
The Zoo (Fortitude Valley, QLD)
Thursday, 1 September 2022 7:30 pm
Brisbane's Babirusa, touted as one of the world's rising stars in Deathcore by Revolver Mag, have announced their Mandatory Malevolence Single Tour, which will hit The Zoo this September… and they're bringing along Portueguese Deatl Metal outfit Analepsy!

triple j and media have rallied around the intensely heavy band who have grown a rabid fanbase, racking them up over 800k streams on Spotify alone.

Revolver Mag said of Babirusa in their Beyond Breakdowns and Pig squeals: 10 rising bands pushing deathcore forward article: "Named after an Indonesian "deer pig" with crooked horns protruding from its snout, Babirusa certainly aren't going for cute and cuddly. The Australian unit — sporting two vocalists, one shrieker and one bellower — play songs with tech-deathy drumming and moments of guitar heroics, but also tons of mosh-worthy flavor, never falling victim to masturbatory craftsmanship. "Abomination" has a strange, hip-hoppy breakdown in the middle with a watery sound effect, while a song like "Catatonia" injects flecks of djenty groove and even a proggy clean bridge in between the chunky breakdowns. "
Don't miss your chance to see Babirusa at The Zoo on Thursday, September 1. Tickets on sale now!