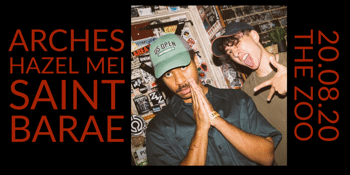 The Zoo Presents
Arches
Hazel Mei and Saint Barae
The Zoo (Fortitude Valley, QLD)
Saturday, 20 August 2022 7:30 PM
Arches are Australia's freshest new musical group boasting exciting genre-bending tunes, high-octane live shows and a purposeful visual direction that is impossible to ignore. Comprised of Mason Rowley and Samuela Naborisi (now Brisbane based), Arches have already managed to stir an ecstatic hype around their music, leaving Australian listeners wanting more. Both Far North Queensland raised and with Polynesian blood in their veins, Sam and Mason share a burning passion for musical performance and production. When Mason approached Sam in late 2021 and asked if he'd be interested in starting a new duo, neither of them had any idea that their skills and strengths would combine to make music so unique and exciting, the likes of which Australia has been dying to hear. Listen to any one of the Arches singles to date and you'll instantly see what all the hype is about.
With a sweet yet sultry tone that oozes luxury, Brisbane based Hazel Mei packs a pensive punch with her brand of sonic magic. The mesmerising 24 year old creates a brew of eclectic yet beautifully cohesive sounds, as she cleverly blends indie-pop with jazz and neo-soul elements that carry an acoustic-style energy at their core. Whilst she turns her innermost thoughts into relatable hits, the rising talent aims to make a positive impact on the industry with her inspiring and candid narratives. Striking the perfect balance between that familiar pop sound and something sharply unconventional, you'll know when you've heard a Hazel Mei track. As you bask in an array of dreamy, carefully-crafted soundscapes, listeners will soon notice that Hazel Mei's music is both timeless and truly unforgettable. Since debuting back in 2018, the singer-songwriter has built a collection of meaningful tracks that each reflect a moment, feeling or thought. She speaks to the dreamer in you.
He's the sound of city nights under a neon moon, where sparkling indie pop meets the sting of heartbreak. Gold Coast rising star Saint Barae is the soundtrack to pop's duality - a nostalgic world of sizzling bass lines, sparkling guitar riffs and delicate twinkling hooks.Following a series of SOLD OUT shows with the likes of Aussie legends Boo Seeka and Beks, this 26 year old DIY popstar is making a name for himself as one of Queensland's most exciting live performers. Following a marathon two years of being featured in Brisbane's QUBE Effect, The Gold Coast Music Awards and Sounds Dangerous Music Festival, Barae returns to the music scene with fiery comeback single 'Heaven'.It's a gritty evolution of the dream pop sound curated on 2021 debut EP 'Angel Armour', and is the first taste of the Aussie artist's sophomore offering - slated for release in late 2022.